8 ways to create your French garden
These eight French garden design ideas are beyond beautiful and can be used to create a quintessentially French garden. Tip number three will give your garden an immediate French feel!
Click on the images below to be inspired by the most idyllic French gardens. We reveal the secrets behind traditional French landscape design for grand estates, romantic Parisian-style balconies and country gardens alike. 
1. Display traditional planters
French gardens no matter what size, typically feature beautiful garden planters: both in formal classical and modern styles. All pots and planters vary greatly in size, color, and material. It's a delight to explore all of the options! Cast iron Medici urns are classic and timeless, while antique planters sport amazing patinas and the unique characteristics of the region in which they were crafted.
Anduze urns have been handmade since the eighteenth century using terracotta and green and yellow glazes. They were traditionally planted with citrus trees. Before planting lemons, limes, oranges, or kumquats be sure to check what will work in your climate or be prepared to shelter them in a glasshouse during the wintertime.
You can mix and match antique Anduze urns, or select your size, design, finish and quantity from our exquisite range of artisan made Anduze urns.    
Use antique and vintage pots planted with greenery to frame architectural features such as a doorway or garden gate.  Unglazed garden planters are special because they benefit from being exposed to the elements — they become weathered and develop their own patina over time.
Fun fact: promote the growth of moss by mixing it with milk then painting more milk onto the planter. Keeping moss moist is essential, so consider redirecting a water sprinkler to reach the pots regularly.
2. Choose iron and marble furniture
French garden furniture is sought after for its quality craftsmanship, classic design, and durability. Arras furniture from the north of France is made with wrought iron, and oh so romantic! Authentic Arras pieces are identified by their trademark feet of either hooves sabots or paw feet (which also indicate their age) and sometimes they are branded.
Bistro tables with marble or alabaster tops and cast-iron bases are portable but also weighty enough to withstand strong winds (i.e. the mistral!). They will make you daydream of sidewalks filled with diners seated at cafes and bistros in Paris, Lyon, and from Aix-en-Provence to Marseille! In contrast, Faux bois furniture is completely different in style. Made of cement, each piece is formed to mimic the texture and shape of tree trunks and branches, so perfect if you are searching for a modern nature-inspired look.
Outdoor furniture can be extremely heavy so better to leave in one spot where you know it will be used – under the shade of a tree or on pea gravel looking out to a view. The little nooks created by the rough surface of faux bois encourage mosses to grow. 
Our antique French outdoor table collection includes iron, marble, zinc, granite and faux bois table tops in a range of styles and sizes.
3. Decorate with rustic accents

Collecting is a lifetime passion that will change as your taste and garden spaces evolve and your trees and plants mature and become more established. Copper and zinc watering cans bring a rustic country feel to a garden and they look fabulous when displayed as a collection. It is possible to find eighteenth-, nineteenth-, and twentieth-century watering cans in all sorts of interesting shapes and designs. The very old models have great big heads which are almost like a blooming flower themselves! Antique weather vanes and lightning rods are distinctively French and are often shaped as roosters.
4. Make a sculptural statement
Garden sculpture and statuary are commonly found in French gardens, in nooks where you can be surprised to see them or near outdoor seating so they can be enjoyed for a stretch of time. For smaller pieces consider displaying them on stone pedestals along a pathway or in a garden bed surrounded by colorful blooms. Chez Pluie always has a range of sculptures and pedestals in stock.

Animal sculptures animate and give character to your green space. These mossy antique garden swans look beautiful as they are but could also be lovely companions on a porch growing spring flowers. Note also the beautiful faux bois table they are resting on.
Figurative sculptures such as the woman holding a child in the photograph below have a formal and classical quality.
5. Complement architectural elements
Architectural features such as stone walls, bubbling fountains, or a swimming pool are found in French gardens and are easy to incorporate into landscape design.
A swimming pool is frequently the centerpiece of a French garden, particularly in the South.
A plunge pool is a good option for a small courtyard garden. They produce stunning reflections if placed near stone walls and plants. In large country gardens, swimming pools commonly are paved with natural stone which meets lawn and flowering garden beds that can be bordered with low topiary hedges. Large garden pots such as Anduze urns look superb at the corners of a swimming pool.
Waterworks tap into the natural water sources across France. Simple and elegant stone fountains and a brass faucet make a focal point and add a sensory layer to the garden design with the soothing sound of running water.
Smaller water features can be created easily with antique French stone basins & troughs. 
Garden steps and pathways can be laid out to complement the architecture of the house and are delightful to follow.
The form in which garden beds are shaped and planted will determine how people move through a landcape – the circulation flow of the garden needs to provide places where sculpture or a view can be admired, or a quiet spot can be enjoyed. Outdoor rooms, or bosquets, can be created through vertical planting to create screens while hedges and pairs can mark a threshold from one space to another. Benches and charming garden chairs can encourage people to pause.
Garden lighting can be used to enhance architectural elements and large trees for special occasions after dark. Using antique French lanterns can add French lumiere to your night garden.  Goose neck wall sconces with enamel shades are a classic choice for illuminating dining areas and pathways that are beside the home.
6. Play with geometry
The monumental gardens of the chateaux of the Loire, the Tuileries and even the grand avenues of French cities all work around geometry. But you don't need a huge space to achieve a geometrical design in your green space. Consider framing pathways or smaller areas with neatly clipped hedges or plant hedges in rows trimmed to different heights and shapes. This is a good way to plant out from under a large shady tree where it can be difficult for other plants to grow. If you are working with a smaller space, the topiary-style of growing plants in pots can create a geometrical effect.

7. Welcome guests outdoors
The French enjoy spending time in their gardens – it is part of la vie quotidien.
Relaxing by the swimming pool or reading under a tree are moments to savor and enjoy in solitude or with company. An afternoon siesta on a comfortable sun lounge is the ultimate summer ritual!
In France, most meals are enjoyed together outdoors in the garden during the summer months. Patterned tablecloths from the weekly marché add color to an outdoor tablescape, and fresh-cut floral bouquets from the surrounding garden make a lovely centerpiece.
Enjoy your outdoor area in the evenings as well - especially in the warmer months! Plant wisteria, jasmine, lavender and enjoy the scents in the evening by the swimming pool too!
Harvesting flowers and home-grown fruit and vegetables is a true pleasure. They also make a special gift for friends.
8. Plant French classics
Heirloom roses are found in all French gardens. Some classics are Pierre de Ronsard, Cecile Brunner, Buff Beauty, Jacques Cartier, Souvenir de Mme Auguste Charles and New Dawn. Planting en masse means enjoying spectacular blooms from spring through summer. They will be a delight filling vases around the house and in bouquets for friends.

Plant trees en masse
Repetitive planting gives rhythm and structure to a garden. Avenues of plane trees, olive trees, and cypress are typical of French gardens, particularly in Provence.
Consider creating a visual axis that can frame a certain view or natural landmark. A combination of evergreen and deciduous trees will add interest and color throughout the seasons well into the fall.
Deciduous trees are pruned back dramatically in French gardens. The healthy, knobbly exposed branches make them look very sculptural in the cooler months. Pruning and training trees in this artful way is very French.

Fill your planters with shrubs and climbers
French garden planters can be enjoyed from indoors if placed on windowsills. Large collections of terracotta pots planted with boxwood topiaries makes a great impact in a courtyard or terraced area.
Typical French climbers include: grape vines (muscat is a delicious variety); colorful bougainvillea with orange-red, pink-purple or burgundy-colored flowers (in Mediterranean gardens); scented star Jasmine, and ivy.
The climbers can be trained on wire and trellises to cover walls and provide vertical greenery where space is limited. French shrubs include lavender, hydrangeas, rosemary, and seaside daisies for a French cottage touch.
Boxwood does well in shady gardens and the planning and maintenance are well worth the effort for a stunning lush display. Symmetry and axes are classic design features in traditional French gardens. Even if your outdoor space is petite, a few potted boxwood plants carefully arranged will suggest a sense of order and help frame the space.
Determining circulation paths and access points is the easiest way to start planning your garden layout, then it becomes easier to decide what to plant where.
Views can be framed with intentional plantings that will accentuate the prospect and direct the eye.
Bonus. Understand your climate zone
France has a temperate climate but various distinctive zones, including oceanic (west), semi-continental (north and north-east), Mediterranean (lower Rhône valley) and mountain (Alps and Pyrénées). Accompanied by photographs, the following is a short introduction to these different climates and the typical gardens found there including: Normandy (Oceanic), the Loire Valley and Paris (north and north-east), and Provence and the French Riviera (Mediterranean).
Coastal gardens of Normandy
The western and north-western windswept and often rainy region of France has a variety of landscapes including marshlands, dunes, steep cliffs, pine forests, and has given much inspiration to French artists. Rouen is the city of Emma Bovary's bleak home and the famous cathedral that Monet painted in series; while the coastal town of Cabourg is said to be Proust's setting for fictional Balbec; and Cherbourg, although a place of much pluie where an umbrella is necessary year-round is delightful nonetheless in Jacques Demy's The Umbrellas of Cherbourg.
Plants that withstand frosts, harsh winds, and salty air will thrive in the oceanic climate and include rhododendrons, agapanthus, clematis, grasses, sea-hardy flowers, shrubs, lovely old trees, and hundreds of varieties of roses.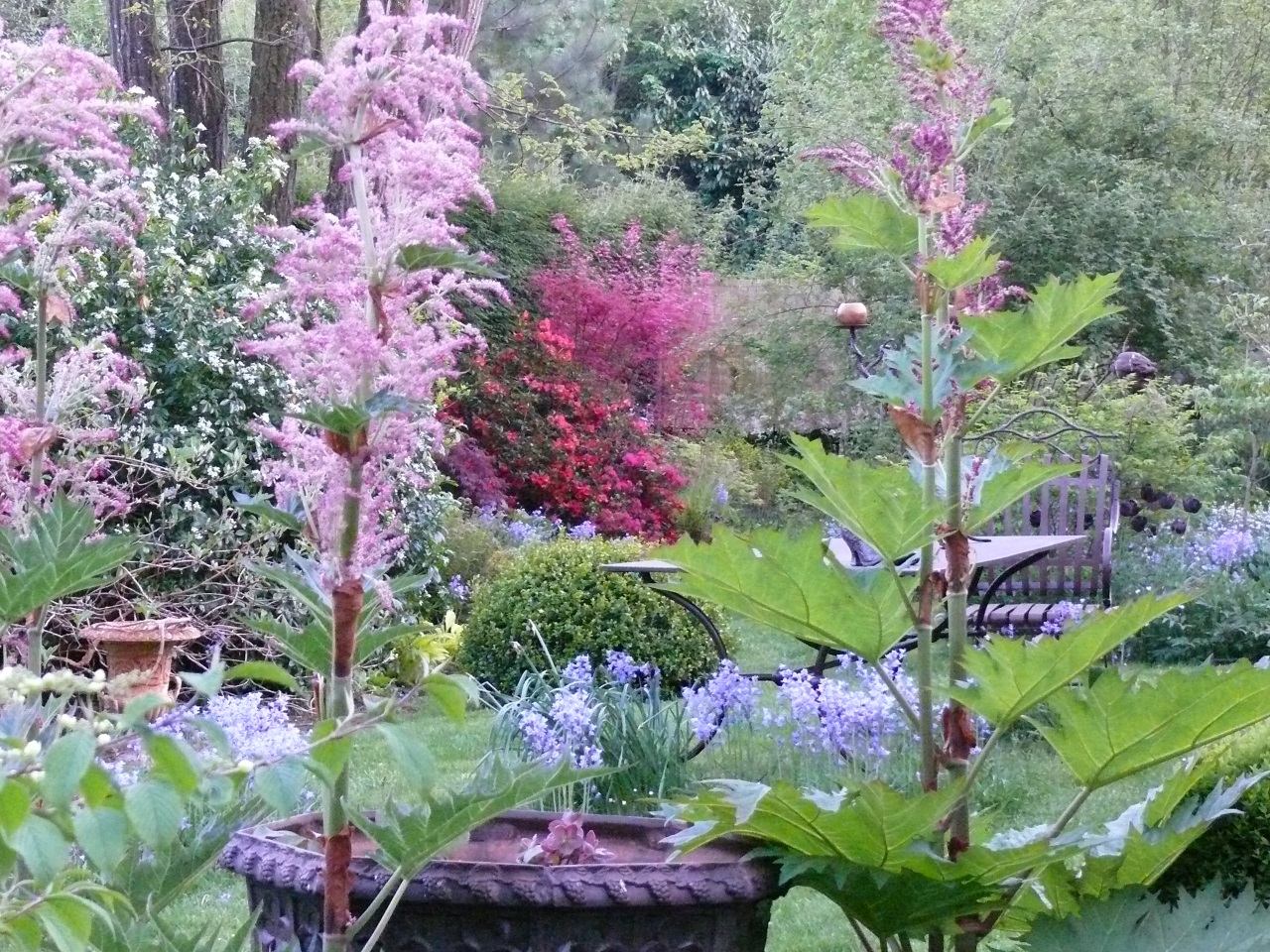 Such a romantic mix of trees and flowers in the above photo - note the Medici urns and oudoor chair. Apparently wildflowers and sea-hardy flowers bloom all year (even in winter), but cover gracefully and completely the natural landscape in spring. In winter it is possible to grow daisies, dandelion, shepherd's purse, fumitory and white dead nettle. While in early spring gorse, wild garlic, snowdrops, and early purple orchid primroses appear, followed soon after by wood anemones, bluebells, cowslips, pyramid orchids, oxlips, and campion to list only a few. Plants that are native to the area naturally will thrive and look most harmonious in the landscape. These plants also will provide sought-after nourishment to bees, butterflies, and other local insects.

To shelter from the forceful sea air, the homes of Normandy often feature thatched roofs, exposed timber frames on their façades, and they are wonderfully cozy with inviting open fireplaces.
As the walls are thick, there is plenty of space to accommodate a planter in the window bringing the outdoors in. There are lovely shrub (or herbaceous) borders in the background in the photograph above. Succulents also thrive in the north. 
The gardens along this rugged coastline receive plenty of rainfall - lush lawns and huge hydrangeas can thrive in the French gardens of Normandy.
The lush gardens of the châteaux in the Loire Valley
For most of the year, the weather of the Loire valley is moderate and comfortable. The areas to the west are influenced partly by weather from the Atlantic Ocean (more rain and milder temperatures) while the more easterly regions experience a continental climate (hotter and drier summers and colder winters).
The Loire valley is well known for its abundance of châteaux (there are over 1000) and the ordered gardens that grow within. Symmetrical parterres (ornamental flower beds), avenues of lofty deciduous trees, and meticulously espaliered fruit trees are major characteristics of these grand residential gardens in central France.
The large landscapes depicted are organized symmetrically and along geometrical lines and consider depth of space and play with perspective. Plants are often grouped by color and arranged to give a layered look: sky meets tree, tree brushes against clipped hedge, hedge groups flowers, which meet hardscaping, such as pathways of riverstone or pebbles. No matter the region, traditional French estate gardens follow principals of design that with a resourceful, inventive mind can be applied to smallers-scale projects. 
One will encounter stone statuary while strolling through traditional gardens in France. In these photographs beautiful stone pots are set amongst various clipped trees and topiary that frame ornamental garden beds blossoming with hydrangeas or potagers (kitchen beds).
Parisian style courtyards
The French capital experiences four distinct seasons, often cloudy weather year-round, regular light rainfall sometimes on a daily basis, very cold winters, and fairly mild but short summers.
The historic city of Paris is famed for stunningly beautiful and well-kept gardens like the Tuileries, Luxembourg Gardens, and the Bois de Boulogne. Among these beautiful public green spaces, lie the petite and chic private Parisian courtyards. These intimate spaces welcome herbaceous topiaries in antique planters, decorative plant stands, wrought-iron tables, and charming chairs with lovely outdoor pillows all snugly set between ancient stone walls.
Small outdoor settings invite a morning coffee or an evening aperitif with friends.
Our collection of outdoor Antique French furniture includes small settings well-suited to courtyards. 
Rooftop terraces – pied-à-terre
A rooftop terrace is a luxury to make green with topiary bushes, trees, planted urns, pot plants, and creeper clad walls. A lush rooftop is a welcome retreat from bustling city life or village streets. Take a look at the photograph below - ooh la la!!
Geraniums and lemon-scented pelargoniums will bloom all year round on a sunny terrace. A backdrop of potted citrus or fruit trees and shrubs simply furnished with a bistro table, folding chairs, and an umbrella will help create a secluded getaway with an unmistakable French feel. Wrap up in a cozy blanket and experience all of the seasons on the terrace of your own magic mountain.
Sun-drenched

Provençale

country gardens
The Mediterranean climate in south-eastern France is characterized by hot dry summers, lots of sun year-round, usually mild weather with rain in fall and early spring, and cool to cold winters.
Plane trees, olive trees, cypress pines, lavender, rose bushes, and climbing plants like wisteria, trumpet vines, and jasmine are found in most Mediterranean gardens. Large planted urns, topiary, clipped hedges, arbors, beautiful garden benches, and stone statuary also are to be found.
The sectioned areas of a Provençale garden provide singular interest (such as a potager, parterre, water feature, or outdoor dining furniture). Large country gardens in Provence often will have a vast lawn that meets a vineyard, lavender field, prairie, or olive grove. The fringes where the property meets the countryside can be some of the most poetical parts of the garden.
Exotic cliff-side Mediterranean gardens of the French Riviera
Salty coastal Mediterranean gardens are planted with flowering cacti and slender palms as though they were sculptures. They frame the glistening Mediterranean waters and provide spots of shade in the summer months. As winters are mild in this climate temperature-sensitive plants such as citrus need not fear frosts.
The southern regions are famous for beautiful pots traditionally used to store olives and oil. Ancient Biot jars are the most authentic and are found frequently in the coastal gardens of the Côte d'Azur. These distinctive clay jars add an instant Mediterranean touch to any garden.
The beautiful round, smooth form of the Biot jar evokes the olive. These vessels often are found mounted in a prominent position so they can be admired habitually.
Little garden lamps can be placed nearby to illuminate the jars to enjoy after sunset.
For further ideas we have wonderful collections of both classic antique olive jars and artisan made Biot jars.
Choose the right climatic region for you
Remember to consider the size of your space and its sun exposure and aspect. Your plants will love and reward you by growing healthily and happily if you choose plants suitable to your local climate and soil and pots that can accommodate them. A helpful resource for finding your equivalent weather zone in France can be found here: United States hardiness hardiness zones, which range from one to thirteen (coolest to warmest). 
Below are the comparable climate zones of regions in France:
Zone 8 - Paris, Loire Valley, Normandy and the Atlantic
Zone 9 - Provence, The French Riviera (Côte d'Azur)
Et voilà. Thank you for reading eight ways to create your French garden!
Image credit: Chez Pluie Provence, Eco-Gites, La Paternelle by Kirsten Honeyman, Chateau Mireille Saint Remy de Provence, Brooke & Steve Giannetti Patina Farm, Cote Maison, Southern Living, Le Domaine d'Ablon, Pinterest.
Explore our collection of French garden furniture and planters here. 
Explore our exquisite collection of French garden decor and add French flair to your garden. 
Our timeless biot jars are handmade-to-order in France
Our classic Anduze urns are handmade by artisans in Anduze
Frequently asked questions
1) What are the characteristics of a French garden? 
Whether in a large estate, farmhouse, townhouse, or part of the courtyard, all French gardens share some common characteristics, including: some sense of order, whether that be in the form of parterres, bosquets, potagers, or topiary. A number of décor items are found in all types of gardens that give them a quintessentially French feel, including: Anduze urns, Biot jars, Medici urns, outdoor garden furniture, sculpture, and water features.
For more information, read our blog "8 ways to create your French garden" and visit Chateau de Villandry to see some more spectacular French gardens: https://www.chateauvillandry.fr/en/.
2) Which plants that grow in France will grow in the US?
Copying French garden design in the spirit rather than in the letter is the advice of American garden experts. It is best to adopt forward-thinking practices that support sustainability and choose plants that suit your local climate, are native to your local landscape, and are waterwise. Also they will be easier to grow! A helpful resource for finding your equivalent weather zone in France can be found here: United States hardiness hardiness zones, which range from one to thirteen (coolest to warmest). 
Planned by Beatrix Farrand (1872–1959), the breathtaking gardens of Dumbarton Oaks draw on some traditional French garden landscape designs, including the Orangery, Swimming Pool and Loggia, the Green Garden Terrace, the Urn Terrace, and the Kitchen Garden. Together with Mildred Bliss (1879-1969), Farrand carefully chose and designed garden ornaments, such as benches, gates, finials, and sculptures. For inspiration peppered with tips for gardening in the US, visit https://www.doaks.org/visit/garden/explore.
Oak Spring Garden, Upperville, VA, designed by Rachel "Bunny" Mellon was influenced in part by the French style. The Oak Spring Garden Foundation is a wonderful resource for gardeners, enthusiasts, and plant lovers.
Paula Deitz is Editor of Hudson Review, a garden writer and cultural critic and I recommend her book, Of Gardens: Selected Essays (Penn UP, 2016), which can be purchased at bookshops. https://www.upenn.edu/pennpress/book/14785.html
3) Jardin à la française: How do I give my terrace or patio a French feel?
"Nothing is more tantalizing or inducive to fantasy than a beautifully trimmed garden with a refreshing fountain in an enclosure that no one may enter," quips Paula Deitz in Of Gardens (2016). Designed by Russell Page, the beautiful terrace on East 70th Street, part of the Frick Collection, is similar to one he designed on the rue de Varenne in Paris, and Deitz adds, it "evokes the same sense of catching a glimpse of a private French garden." Visit the Frick Collection website for inspiration on terrace design.
Create a cosy retreat on your balcony, and use ornamental vines as complements to architecture, around a doorway or window. Install a planted urn or lovely garden sculpture. Charming outdoor furniture, made from wicker or wrought iron will prolong lounging time en plein air.
4) Where can I buy French outdoor furniture?
Chez Pluie specializes in French antiques and vintage furniture and is exclusively online, please explore our range of French outdoor furniture via Chez Pluie.
If you visit France in person, be sure to visit the local brocantes and marches to hunt for some good finds. You can arrange shipping with Chez Pluie.
Related Posts:
Ten ways to create the Patina Farm aesthetic
The most beautiful French Gardens - Dominique Lafourcade
The Biot Jar; An Ancient French Tradition
The Anduze Urn; Timeless Elegance 
Six ways to create your modern farmhouse kitchen
Seven ways with demijohn bottles
Pam Pierce: classic decor ideas
11 comments
Berta T Mitchell
January 24, 2023
Lovely pics and detailed info.
FYI – I think we all know the woman and child statue is aka The Virgin Mary and infant Jesus.
Europe is generally of a Catholic and Protestant faith.
Thank you,
Tina
Wonderful website. A lot of useful info here. I am sending it to several friends ans additionally sharing in delicious. And certainly, thank you in your sweat!
Bondi Landscapes
June 08, 2022
Thank you for your very informative and beautiful article. I feel inspired to create my own french courtyard now! I appreciate the way you have broken down the specific elements of a french garden. Your article has been very helpful. Merci!
Thank you for sharing your beautiful pictures and your fountain of knowledge.
Everything was Absolutely Beautiful!
Since I am half French I can see why I am attracted to Everything. It was like putting on a Shaw. Merci
Pamela Thiolet/Theolet
September 07, 2021
Delightful and inspiring reading, so romantic the French influence, whether
old or new, one of the few styles where very old and worn looks beautiful.
So lovely.
Awesome, best ideas for french look an garden
What is name of climbing rose? Thanks
Nancy Brantley
April 14, 2020
Many thanks Kirsten for your kind comments and reference. Yours sincerely, Susannah Cameron
Susannah Cameron
October 02, 2017
Wonderful images and commentary on French garden style! I notice you used my photograph of the charming garden at La Paternelle. Please provide a link in the photo or caption to this original content in case your readers would like to know more about the garden: http://www.ladolcevitacalifornia.com/2014/01/translations-creating-wonderful-whimsey.html Merci!
Kirsten Hoenyman
October 02, 2017
Leave a comment