Six beautiful garden room ideas
This blog provides inspiration on creating domestic green retreats. Fill the garden house or a light-filled room in your main residence with beautiful French potted plants and garden room décor. You will be breathing in the sweet and earthy smell of foliage and flowers in no time!
Introduction
Spaces that are filled with plants and often look out onto sylvan settings, garden houses are both ornamental and practical. They offer a unique space for social gatherings, or quiet time, and also add architectural interest to a backyard.
Havens  – large or small – protected from the outside world, as well as nurturing parts of it, garden houses or garden rooms offer a place of respite and nourishment for the soul and body. Retreats such as these can be furnished with chic preloved pieces that fit with a sustainable lifestyle. 
Notice the way the chandelier blends in magically with the room, you have to look twice to see it at all!
Read on to discover six ways to spruce up your garden room:
1. Going potty
Pots: classical style
Chic classical-style earthernware pots are a must-have for garden rooms. France is home to a large variety of pots - those that share a classical style still have quite different characteristics and shapes. Biot jars, terracotta pots, confit pots, Castelnaudary pots, Saint Jean-de-Fos pottery are all hand-crafted following traditional, regional, and distinctive methods of making. It is possible to buy these pots made new, and Chez Pluie also sources some fabulous vintage and antique specimens.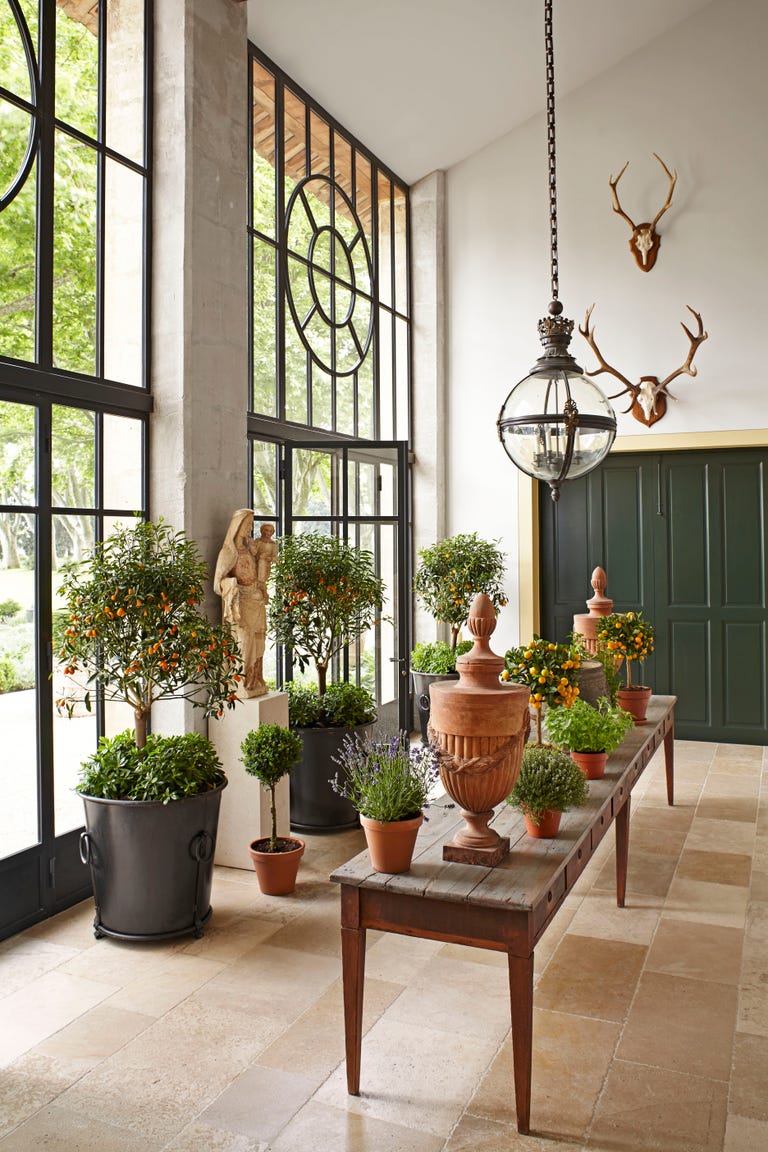 Recreate this classical French country aesthetic in your own garden room using décor from Chez Pluie and growing potted plants in the topiary-style.
Terracotta pots
The above pots currently are available for purchase online at Chez Pluie. Would be a beautiful way to house seedlings and topiary-style citrus or herbaceous plants, such as rosemary, basil, and lavender!
Biot jars

Above is an antique Mediterranean terra-cotta olive jar currently in stock at Chez Pluie. Enjoy the simplicity and purity in form of classic olive jars and Biot jars. This is just one example of the full range of classic olive jars available for purchase at Chez Pluie.
Confit pots
Confit pots are so versatile and bring instant chic to any space, but would be completely at home in a garden room. They can sit pretty (and empty!) on a shelf or bring life to a table filled with a bouquet of sunflowers or wildflowers. Explore the full range of pottery available for purchase online at Chez Pluie.
Castelnaudary pots
Above is an example of a vintage pot available at Chez Pluie. This is a small Castelnaudary pot made in the 1960s. A small number of Castelnaudary pots are always in stock at Chez Pluie. Some distinguishing features of Castelnaudary pots include bearing at least two handles (sometimes four) and sporting an emerald-green glaze, so the above pot is a little unusual.
Saint Jean-de-Fos pottery
This is an example of the fine pottery made by the craftspeople of Saint Jean-de-Fos. Not just amazing decoration, this is actually a vinegar pot, and the beautiful emerald green color would look so spectacular in a garden room! Discover Saint Jean-de-Fos items available at Chez Pluie.
Pots: modern style
If you have an eclectic style or want to generate visual interest by contrasting décor from different stylistic periods, go for a Willy Guhl or Faux Bois pot.
Willy Guhl pots
Above is an example of a Diabolo pot designed by Willy Guhl. He is famous also for making the distinctive Mouchoir garden pots. Perfect for moss.
Faux bois pots
 Faux bois (or fake wood) pots usually are made to look like logs or twigs, branches or sometimes even woven baskets. Chez Pluie has a range of modern and vintage pots always in stock and available for purchase.
2. Baskets and buckets
Rachel Lambert (Bunny) Mellon's famous greenhouse at Oak Spring Garden estate is every gardener's dream room! It is a mix of triomphe de l'oeil and real wicker baskets and other charming rustic pots and containers. Bunny Mellon not only designed the White House Rose Garden for Jackie Kennedy, but also Hubert de Givenchy's country house Chateau du Jonchet in France and The Potager du Roi (Louis XIV's kitchen garden) at Versailles.
Be inspired by Bunny Mellon's exquisite French-infused style with some baskets and buckets from Chez Pluie.
Shallow baskets would look pleasing filled with dried flowers or would serve well as a container for gardening tools.

This large rotund wire basket would look beautiful storing eggs (its traditional use), or with clementines and other seasonal citrus.
These adorable antique French Faience bowls are in stock online at Chez Pluie at the moment. Expertly designed and crafted, these ceramic dishes have subtle differences in their lovely pastel glaze coloring. Would add style and beauty to a rustic cupboard or shelf display!
3. Birdcages & feathered friends

A birdcage contributes a sculptural element to any space, whether as a hangout for avian family members or as décor for a garden room party!

Chez Pluie sources characterful and colorful birdcages - here are two in stock at the moment. Explore the whole range of birdcages online at Chez Pluie.

4. Urns
Medici and classical-style urns are tried and true pieces for any outdoor room à la française. Whether admired on their own or planted, they are an elegant addition to a garden room and merge effortlessly with other décor.
Make your garden house green and beautiful. Pots made of earthy materials such as stone or terra-cotta are excellent décor choices to connect an interior space to the natural world. Bring some of the local natural landscape that surrounds your home or garden room inside by using earthy elements such as the stone pot (pictured above) and planting it with native foliage or flowers.
Two handsome Medici urns grace the garden table of this chic garden room.
Shop this look with the help of Chez Pluie! There are always a number of different kinds of Medici urns in stock.
A pair of Anduze urns speak to the outside in this charming light-filled garden room. The mismatching chairs are full of character and homeliness - this is a dining area made for a long winter's lunch!
The above specimen is an antique and classic Anduze urn unearthed recently by Chez Pluie. It has a worn and weathered patina that is so special and charming.
5. Outdoor and wicker furniture

Shop this look with Chez Pluie! Bring outdoor chairs inside. Plant a tree in a gorgeous terra-cotta pot and place beside a window. Et voilà - this décor makes a garden room effortlessly!
Chez Pluie always has top-quality vintage and antique outdoor furniture in stock, like the above pair of delightful 19th-century wrought-iron garden chairs. They waiting to grace and create a garden room!
Whether in a garden room in a modestly-scaled house or on a large estate or even on a terrace, wicker furniture creates a relaxed atmosphere. Above, the combination of the lovely armchair, pot plants, mix and match tables, and shelving achieved with vintage furniture personalises the room, making it a homely and green respite.
At the moment Chez Pluie has some rattan chairs, as well as banana leaf chairs and a woven straw and teak sofa, which would all suit a garden room well.
So beautiful - a vintage garden table tucked under a grapevine pergola, flush against a romantic stone façade with delightfully weathered shutters!
6. Watering cans, demijohns & cloche domes
Antique copper watering cans and a raised cast iron urn planted with boxwood make this setting unmistakably French. 
Shiny and smooth textures together with shimmering colors and sculptural forms, vintage and antique watering cans immediately bring the aesthetic pleasures of gardening to mind. They are must-have features of garden rooms!
A large demijohn bottle gives this mid-century garden room an eclectic and light feel.
Vintage and antique versions of demijohns are sourced by Chez Pluie - usually they are made from green-tinted or clear glass.
The garden room photographed above serves as a unique place for a very special meal. The green
glassware
contrasts well with the purple place settings, and the
cloche domes
on the
open shelving
look fabulous amongst the other keepsakes.
Recreate this stylish look with beautifully-shaped (and made) French cloche domes sourced with a careful eye by Susannah and Hugh Cameron at Chez Pluie!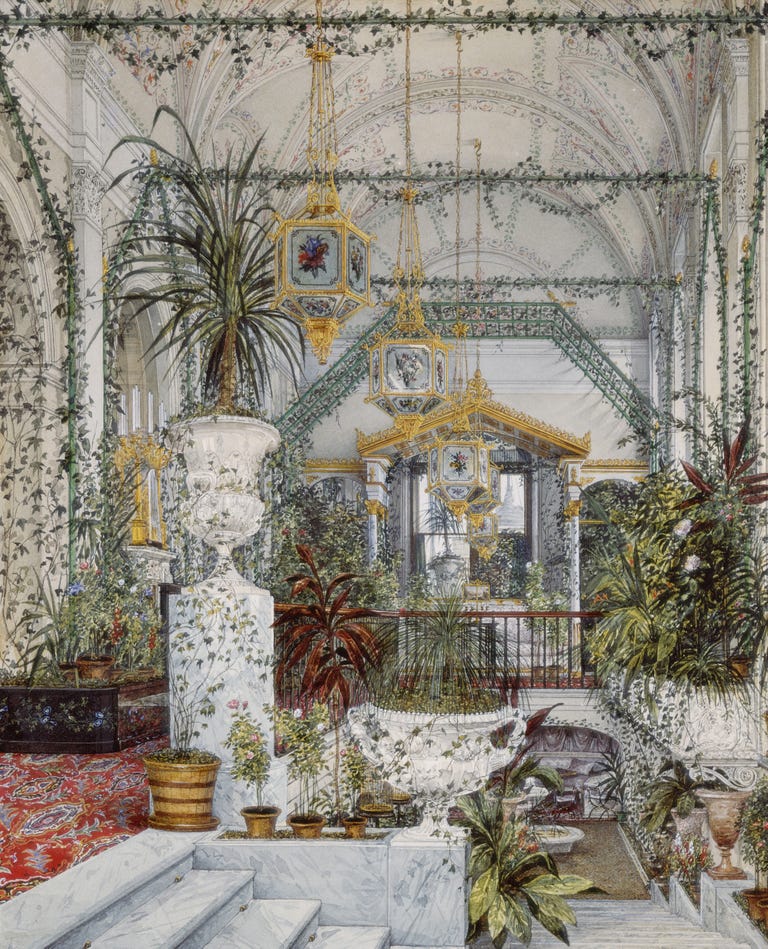 Create your garden room with our exquisite collection of urns, planters and French furniture.
Image credits: Russell Page (Great British Gardens), Pinterest, Dominique Lafourcade, Cote Maison, Alexandre Bailhache (Veranda), Peter Marston (Veranda), Roger Foley (Oak Spring Garden Foundation), Chris Edwards (Veranda), Annie Schlecter (Luxe), Heritage Images Getty Images (The Winter Garden of Empress Alexandra Fyodorovna, 1860s. Found in the collection of the State Hermitage, St. Petersburg, cited in Veranda magazine)
For more inspiration take a look at our related articles below and follow us on Pinterest.
Frequently asked questions
1) What is a garden house?
A small usually open structure providing shelter in a garden. Also known as a garden room. Usually a standalone building. They can be used in many ways: as a gardening space with beautiful displays of planted urns and pots; to host special parties; and as a restorative retreat, writing shed, artist studio, home office hideaway, or small gym. Some are insulated, while others are more in the log cabin style, some are equipped with plumbing and solar power, while others offer an escape from connected life.
2) How do I make a garden room?
There are many companies that install ready-made garden houses in a variety of styles to suit different needs. Or with the right tools and know how it is possible to make your own! Use what you already have. Think about where best to position a garden house: Where is there winter sun? What will its proximity be to the main house? How close do you want it to the kitchen and other frequently used rooms? Line the ground with pavers in the designated area, furnish it with an outdoor table setting and cover with a shelter to help define that area. If your garden house is well-sealed you can consider using it to protect your citrus, cactus, and other sun-loving plants over frosty winters. If you decide to keep it off the grid, no electricity is a nice excuse to use candles and lanterns if it is drafty!
3) How can I recreate the effect of a garden room using an existing room in the house?
Choose a room that is light-filled and has a view onto foliage, install tiles or stone floor to recreate the feeling of being outside, or cover the existing floor with a grass mat. Furnish the room with rustic pieces suggestive of the garden or a farmhouse, such as wooden shelving or a bench, planted pots and urns, watering cans, a farmhouse-style coffee or dining table, and Arras or wicker chairs. Green glass vases such as demijohns or old preserving jars can add a nice garden touch too.
4) How can I live a more sustainable and healthy life?
Watching nature at work dispels anxiety and lifts the spirits! Making a green space, or installing a room in the garden can encourage time spent in fresh air, relaxing in a quiet space, and meditating on the delight of plants – both for their beauty and also their varied uses. Install solar panels on the garden house, plant native species, and fertilize your plants with compost from your own kitchen organic waste. Your plants will reward you with healthy growing and they will taste better too! Vintage and antique pieces not only transcend trends but bring a past with them and are therefore an eco-conscious choice.
Related Posts:

6 comments
Absolutely love your photographs, they swept me away into a different time💛
Stacy Wackernagel
November 29, 2021
Thank you for taking me away from our cold snowy landscape for a few moments. Oh the color green!
So beautiful and welcoming I can see myself sitting under the trees
I love anything French it looks so restful and inviting thank you for sharing
Beautiful and inspirational! Thank you for sharing.
Barbara Myslinski
September 24, 2020
Every beautiful picture inspires me to reinterpret uses for my beloved old treasures. I appreciate your generosity and thank you for sharing your ideas.
Sallie Bill Bill
May 11, 2019
Leave a comment