The map of France below points out the names of towns where traditional artisan products are made:
Anduze Urns - timeless, elegant
These beautiful bell-shaped urns are named after Anduze, a commune in the Gard department of southern France, close to Uzès and Alès. Handcrafted using a centuries-old technique, this is pottery at its finest. Anduze garden urns are decorated with distinctive classical reliefs depicting garlands and the faces of gods. Traditionally planted with citrus trees (like lemon, kumquat, or orange) these terracotta planters will add a formal French elegance to your home.
prestige Anduze urn
has a natural antique finish.
Anduze urns
and
olive jars
glazed in beautiful honey, green, and flame.
If you live in an area where temperatures fall to below freezing, Chez Pluie can make sure a water repellant treatment is applied to your urn prior to sending - please request this when you submit an order.
Biot Jars - the French olive jar
Medici urns - classic beauty
Medici urns are named after a famous marble decorated with bas-reliefs made in Athens in the 1st century BC. Lost for centuries, this huge object, or krater, reappeared in Rome in 1598, discovered in the inventory of the Medici Villa. Since the late-eighteenth century the vase has been displayed in Florence at the Uffizi Gallery. It is a gigantic one and a half meters tall.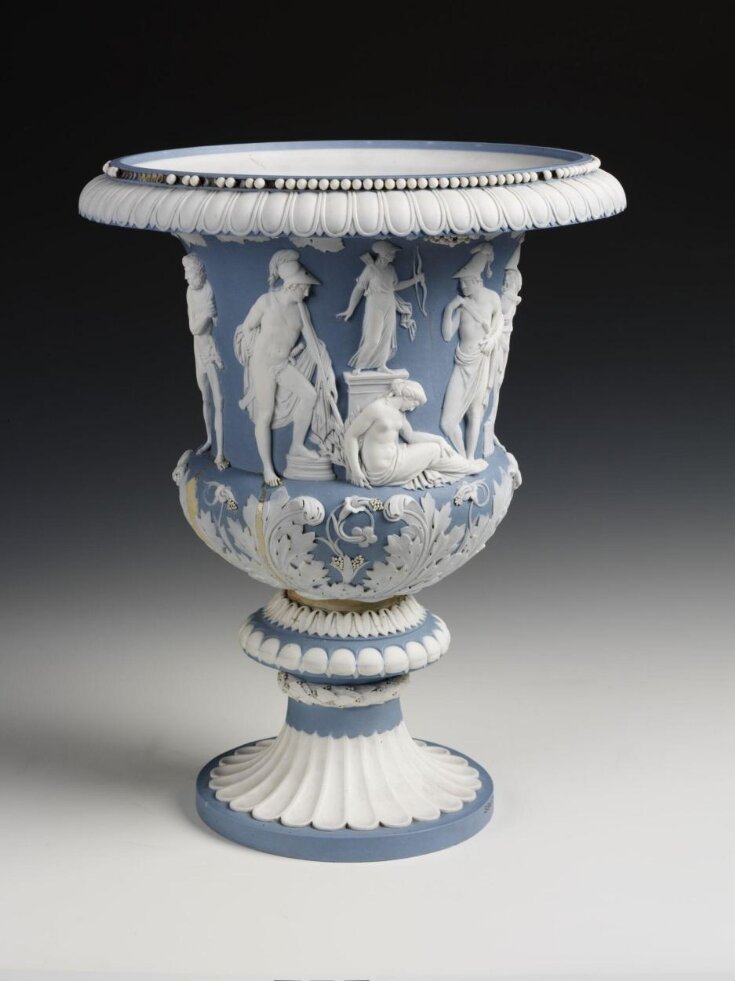 The Industrial Revolution enabled the manufacture of cast iron versions on a large scale so it is possible to find many examples from the nineteenth century in an array of sizes and designs.
Castelnaudary planters
Glazed emerald green these splendid garden planters from Castelnaudary generally date to the nineteenth century. Castelnaudary is a commune in the Occitanie region of France (a new region in the area of Languedoc-Roussillon and Midi-Pyrénées).
Guhl's planters are highly collectible and increasingly hard to find. Each one is a little different, has rich patinas, and some deliberately were made to tilt. 
This rustic nineteenth-century Black Forest or Foret Noire planter is composed of branches and pine cones. Adorned with a fern, assortment of moss, or boxwood spheres, it would suit an Adirondack-style abode and bring a warm festive atmosphere in the wintertime.
The Arras designers were well known for their imaginative attention to detail, visual appeal, beautiful curves, and organic shapes. Notable also for their unique trademark feet of cast iron horse hooves - or the lion's paw in earlier designs.
The Arras Foundry was located in northern France. It began in 1848 with garden furniture, all hand-forged and riveted. Their designs were popular in parks and public spaces. The foundry designed exquisite outdoor furniture until operations ceased at the beginning of the First World War when the building was turned into a munitions factory. It is no surprise that Arras designs are highly sought-after collector's items. They are characterful and charming. Each piece can be identified by the brass plaque stamped with the factory's name.
If you love the delicacy and sophistication of Art Nouveau, Chez Pluie has an early-twentieth-century iron and zinc pot plant stand with beautiful decorative details and curves (pictured above).
Chez Pluie unearthed a nineteenth-century French tole cachepot (pictured above). It has decoratively embellished metal with two handles for lifting and a luscious verdigris coloring that enhances the ornamentation.
rectangular planters
that would give a mid-century feel to a garden and fit well on an exterior window ledge. Willy Guhl's fantastic and iconic examples have been featured above. Chez Pluie also has fabulous sets of rectangular planters which have a similar modern design and metal industrial handles. The patinas on the cream color planters have a crackle-like finish, but some styles have the rich sage green coloring associated with France (pictured below).
Image credit: Terrres Vernissees by Christine Lahaussois (French book), Chez Pluie Provence, AD France, Velvet & Linen (Patina Farm)
Frequently asked questions
1) Why does France have so many different kinds of pots and urns and where can I learn more about them?
Like many regions in the world, historically France has been a place that has a strong tradition of arts and crafts. The country is fortunate that many of these age-old practices have been preserved up until the present. The making of pots and urns is an example of one area which is still in the hands of artisans. Villages and communes dotted all over the large country became famous for their own specialized and idiosyncratic techniques of making ceramics, which passed down through the generations. These objects are made following precise methods that produce very distinctive pieces. In addition to this blog, learn more about Biot jars, Anduze urns and Medici urns here, "Artisan Anduze Urns & Biot Jars" blog.
2) Are there any modern-style French pots or planters?
Yes. Faux bois are relatively new. The first examples were made in the late 19th century by garden craftsmen in France, known as rocailleurs.
3) Where can I buy a second-hand French pot?
It is possible to buy old French pots through Chez Pluie or by visiting local brocantes in France. 
4) Can I buy pots to order?
Yes. It is possible to order custom-made pots and urns through Chez Pluie that are made following traditional techniques in Anduze, France.
5) What should I plant in a French pot and how should I display it?
Plant evergreen, woody foliage in pots and planters, such as boxwood, bay laurel, myrtle, and privet (these work well for topiary). Herbs, such as rosemary and basil look great in pots as well. Flowering fruit trees are also common choices for a French pot, such as kumquat, lemon, lime, and olive. If gardening in a region that is prone to freezing, it is best to line clay and terracotta planters with plastic liners and plant inside those to avoid the risk of cracking the pot.
The most beautiful French gardens - Dominique Lafourcade