An introduction to classic French garden pots, planters, urns, and olive jars
Oh, the joy of French garden vessels! France offers the highest quality of pots and urns, some of which have been hand-crafted following traditional methods for centuries. These beautiful artisanal products cover a tremendous breadth of styles.
This blog will introduce you to the following types of pots:

These pots are all almost always available at Chez Pluie for purchase online. Special, unique, playful, enchanting, many of the pieces also are preloved so you can rest assured they are an eco-friendly consumer choice. To source directly from France, browse Chez Pluie's full collection of French planters. Or, first, read on to find out more about their history and what makes them so special. 
1) Anduze Urns - timeless, elegant
Anduze urns can be antique, vintage, or made new. They are beautiful classical bell-shaped urns and are named after Anduze, a commune in the Gard department of southern France, close to Uzès and Alès. Hand-crafted using a centuries-old technique, this is pottery at its finest. Anduze garden urns are decorated with distinctive classical reliefs depicting garlands and the faces of gods.
Anduze urns come in a variety of distinctive colors. Through Chez Pluie it is possible to find antique or vintage Anduze urns, or to order an artisan-made pot glazed in your preferred color. The bespoke bespoke Anduze urn pictured above has a natural antique finish, and can be made to order through Chez Pluie. 
Anduze urns
and
olive jars
glazed in beautiful honey, green, and flame. These are examples of some of the colors of the glazing that can be applied to Anduze urns. They can all be ordered online through Chez Pluie.
Water repellant treatment for Anduze urns
If you live in an area where temperatures fall to below freezing, Chez Pluie can make sure a water repellant treatment is applied to your urn prior to sending - please request this when you submit an order.
Biot-style jars made in Anduze
Above is such a jar, a Biot-style jar that was made in Anduze, and currently is available for purchase online at Chez Pluie. These jars are custom made by artisans in Anduze, please contact Chez Pluie to order yours!
2. Biot Jars - the French olive jar
Biot jars are elegantly and bulbously-shaped, earthenware vessels that are glazed only on the interior and around the neck. Since the Middle Ages at least the Provençale village, Biot, in southeastern France has been making these pots. There is a unique quality to the terracotta from the region around Biot. Many of these jars are still displayed indoors today, but have taken on more modern usages: likely filled with branches, walking sticks, or used as a cachepot, rather than the traditional use of storing olives or oil. Antique Biot jars can simply be decorative objects too as they look beautiful without ornamentation. Either way, they evoke a quintessential Mediterranean feel.
Above is an example of a 19th-century weathered Biot jar that is currently available for purchase at Chez Pluie.
Above is a sublime example of a Biot jar hand-crafted in the 19th-century that is available at the moment for purchase online at Chez Pluie.
Contemporary Biot-style jars made in Anduze
As mentioned above in the Anduze urn section of this article, it is possible to acquire new Biot-style urns as well. Chez Pluie has a range of artisan-made olive jars made to order from Anduze. Above is an example of one of the glazing possibilities. 
For more detail on Biot Jars see "The Biot Jar - an ancient French tradition".
3. Medici urns - Classic beauty
Medici urns are named after a famous marble decorated with bas-reliefs made in Athens in the first century BC. Lost for centuries, this huge object, or krater, reappeared in Rome in 1598, discovered in the inventory of the Medici Villa. Since the late-eighteenth century the vase has been displayed in Florence at the Uffizi Gallery. It is a gigantic one and a half meters tall.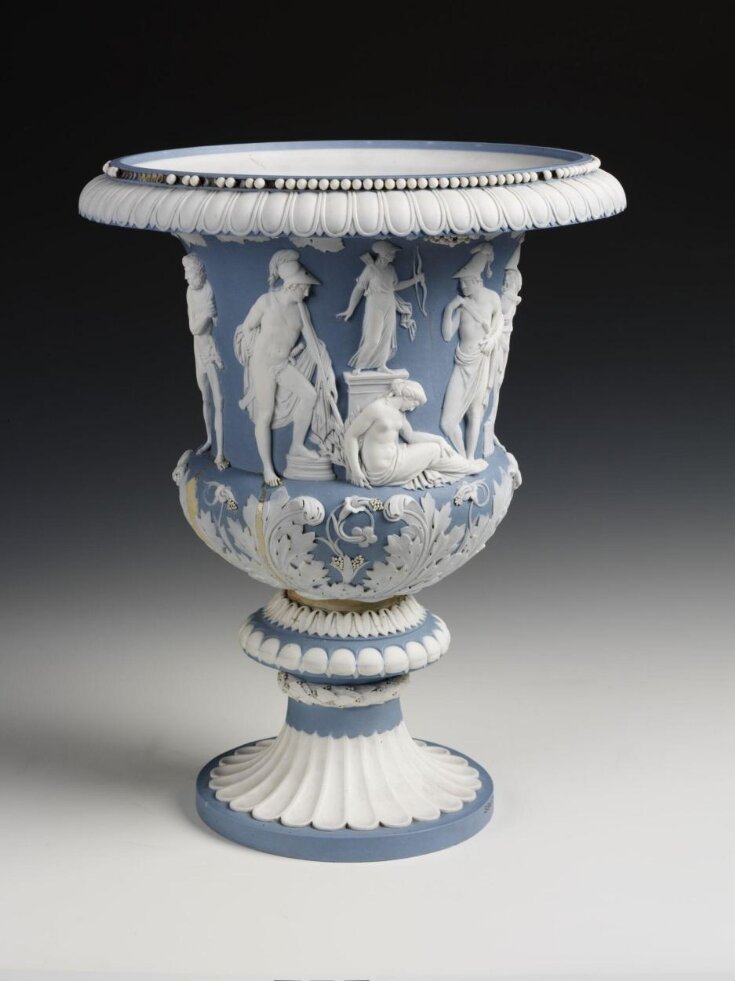 The Industrial Revolution enabled the manufacture on a large scale so it is possible to find many examples from the nineteenth and twentieth century in an array of sizes, designs, and materials such as cast iron and even concrete. The above pair of Medici urns are modeled off the urns in French châteaux, where Medici urns ornament symmetrical gardens overflowing with flowers or perch on top of grand staircases and gateways.
4. Castelnaudary planters
Glazed emerald green these splendid garden planters from Castelnaudary generally date to the nineteenth century. Castelnaudary is a commune in the Occitanie region of France (a new region in the area of Languedoc-Roussillon and Midi-Pyrénées).
At the Mayor's request, Castelnaudary planters graced the boulevards of Toulouse during the mid-nineteenth century. As they have a drainage hole in the base they can be enjoyed as a planter or simply laissez-faire. Explore the Castelnaudary planters currently available at Chez Pluie.
In 1901 Ludwich Hatschek discovered that a particular combination of asbestos fibers, cement, pulp mixed with water, and air would be frost-resistant. Hatschek patented this and named it Eternit. In 1951 the Swiss Company Eternit, commissioned Guhl to create a range of attractive, durable planters using Eternit, including the Mouchoir and Diabolo.
Willy Guhl's Mouchoir or handkerchief planter is a playful and elegantly simple design. As pictured above, they look fabulous planted with moss, succulents, or orchids.
Guhl designed the Diabolo in the shape of an hourglass. Guhl's planters are highly collectible and increasingly hard to find. Each one is a little different, has rich patinas, and some deliberately were made to tilt.
In France, this technique is known as Rocailleur and was crafted by hand without gloves to give the style its delicacy and naturalness. Rocailleur objects were made mostly to decorate public spaces, often imitating whole trees. In the 1930s, masons who were skilled in the Rocailleur technique opened their own businesses and made faux bois furniture on smaller scales.
An adorable dog kennel is as well, but – alas! – that belongs on a different blog post!
This rustic nineteenth-century Black Forest or Foret Noire planter is composed of branches and pine cones. Adorned with a fern, assortment of moss, or boxwood spheres, it would suit an Adirondack-style abode and bring a warm festive atmosphere in the wintertime.
7. Plant stands
Currently in stock at Chez Pluie is an early-twentieth-century wrought-iron white pot plant stand with beautiful decorative details and curves (pictured above).
These vintage 1950s wrought iron plant stands photographed above are embellished with foliage enhanced in places with paint to give an antique effect and have beautifully shaped legs.
Plant stands
are fabulous for summer blooms or filled with greenery, such as ferns.
Above is an elegant example of a large terracotta cachepot that has recently become available for sale online at Chez Pluie.
Chez Pluie has available an incredible late nineteenth-century French copper and brass cachepot with lion head handles and brass claw feet (pictured above).
Chez Pluie has a range of stylish rectangular planters that would fit well on an exterior window ledge. Willy Guhl's fantastic and iconic examples have been featured above. Chez Pluie also has fabulous pair of rectangular stone planters from the early twentieth century. They have an interesting wavy form, beautiful moss-covered  patina and dainty feet (pictured below).
10. Small flowerpots
Chez Pluie has an excellent selection of small planters.
Currently available at Chez Pluie is a mid-twentieth-century French garden planter with a tulip shape made from cement (pictured above).
A delightful vintage square oriental-themed cachepot currently is in stock at Chez Pluie. Its portability means it can house a plant that likes to follow the sun from room to room or be brought inside during stormy weather.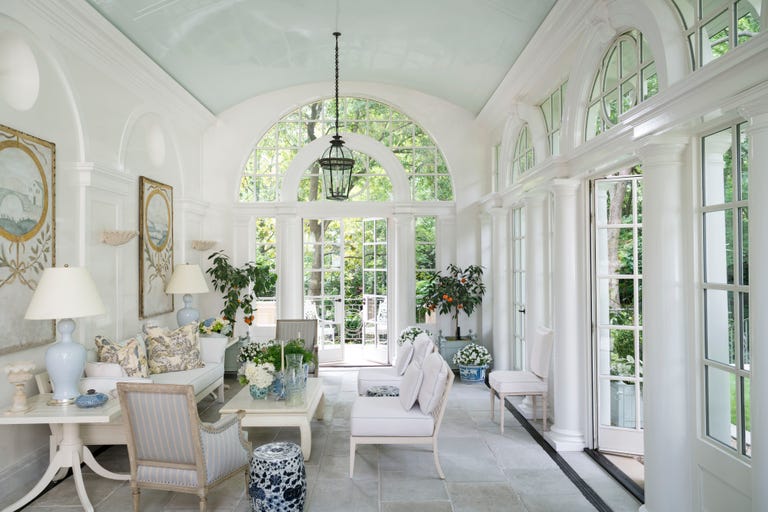 Finders Service
Coveting a product that is on reserve or was recently sold? Please feel free to engage the
Finders Service
at Chez Pluie, Susannah and Hugh will be only too happy to help.
Et voilà. Thank you for reading this blog about French pots and urns
Image credit: Terrres Vernissees by Christine Lahaussois (French book), Chez Pluie Provence, AD France, Velvet & Linen (Patina Farm), Veranda
Frequently asked questions
1) Why does France have so many different kinds of pots and urns and where can I learn more about them?
Like many regions in the world, historically France has been a place that has a strong tradition of arts and crafts. The country is fortunate that many of these age-old practices have been preserved up until the present. The making of pots and urns is an example of one area which remains in the hands of artisans. Villages and communes dotted all over the large country became famous for their own specialized and idiosyncratic techniques of making ceramics, which passed down through the generations. These objects are made following precise methods that produce very distinctive pieces. Browse Chez Pluie's Garden urns and planters collection to discover treasures available for purchase. For more in-depth articles on specific types of pots, read Chez Pluie's articles "Medici urns and 13 decorative uses", "The Anduze urn: Timeless elegance", "The Biot jar: An Ancient French Tradition", and "Antique confit pots decorating ideas".
2) Are there any modern-style French pots or planters?
Yes, a number of styles of French pots and planters have been made during 20th century and 21st century, many examples of which are available for purchase online at Chez Pluie. Modern designs include the fabulous Faux bois style and charming Arras garden furniture. Willy Guhl has made some iconic modern planters, including the Diabolo and the Mouchoir. Browse Chez Pluie's Garden urns and planters collection to discover treasures available for purchase.
3) Where can I buy a second-hand French pot?
It is possible to buy second-hand French pots through Chez Pluie. These include beautiful contemporary pots as well as vintage and antique pots. Chez Pluie's range is always changing and new. Exciting pieces are added each week, so be sure to check the online store regularly!
4) Can I buy pots to order?
Yes, it is possible to order custom-made pots and urns through Chez Pluie. These beautiful pieces are made in the traditional workshops in Anduze, France, following ancient pot-making techniques. The artisans of Anduze craft traditional classic Anduze urns and olive jars (also known as Biot jars).
5) What should I plant in a French pot and how should I display it?
Plant evergreen, woody foliage in pots and planters, such as boxwood, bay laurel, myrtle, and privet (these work well for topiary). Herbs, such as rosemary and basil look great in pots as well. Flowering fruit trees are also common choices for a French pot, such as kumquat, lemon, lime, and olive.
Display your French pot in a garden, courtyard, porch, or indoors. Please note that if you intend to place your earthernware pot outside and you live in a region that is prone to freezing, it is best to line clay and terracotta planters with plastic liners and plant inside those to avoid the risk of cracking the pot. For more inspiration on giving a French feel to your garden read Chez Pluie's article,
"Tips on how to create your French garden"
.
Related Posts:
The Anduze urn. Timeless elegance
Antique French confit pots - decorating ideas

The most beautiful French gardens - Dominique Lafourcade
7 comments
Pure art, pure magic! Pottery is spiritual experience.
Peter Lebopa
June 23, 2020
I am packing my bags to to!
Lovely, inspiring photos….thank you.
Love love the urns & pictures. My favourite style for house & garden is French Country. Thank you.
Informative and beautiful! Thank you.
Very interesting narrative and the pictures are beautiful. I love these French
pots.
I love these pictures . French is my style
Leave a comment