Home for the holidays: Noël à la française

Soak up the French Christmas town and market atmosphere as you browse this blog and the Chez Pluie website, which offer a wide range of holiday gifts and ideas on how to give your home a special festive and restorative makeover this year. Yuletide trimmings help add to the celebratory anticipation of welcomming family and friends into your home at Christmas. And if you're thinking of loved ones afar, or for whom lockdown makes it feel like they are miles away, a thoughtful gift could bridge the long awaited moment when you can be together again. Visit the website's cheering Gifts collection for inspiration on thoughtful presents. The mailbox might be second to the chimney, but remember that Chez Pluie offers a streamlined shipping service as well. Read on also for fun and creative ways to bring holiday magic to your dining table.

1. The French Christmas mantelpiece
Welcome le père noël in style by adding French accents to your fireplace or living-room ledge. A beautiful mirror can serve as a natural focal point around which candlesticks, glassware and unusual ornaments can be displayed. Interspersed with Christmas lights and branches such an ensemble will make a soft and sparkling impact.
Whether you are searching for the portable kind, extra-tall floor candlesticks, or medium-size styles good for warmth and light as part of a tablescape or for the mantelpiece, there are a varied range of styles of antique and vintage
candlesticks
always available at Chez Pluie. The
sculptural set above
are a particularly special pair currently in stock.
Decorative pieces like the pair of shiny mercury glass ornaments (pictured above) help bring the feeling of a special occasion to a dining-room or living-room mantelpiece or tabletop.
The above fireplace arrangement festooned with conifer leaves balances all the different elements displayed and is grounded by the color green. Even though there are many pieces, each has breathing space and no one piece dominates over another. 
Pictured above is an elegant example of an apothecary glass bottle that currently is in stock at Chez Pluie and could help recreate the effect of the lovely glass jars nestling golden baubles and pine cones in the inspirational photo of the mantelpiece above.
Grouping together apothecary jars brimming with decorations can be a fun way to celebrate different holiday occasions. Imagine this charming blown glass 19th-century apothecary jar filled with painted holiday-themed chocolates, candy-canes, or Easter eggs. Place it within easy reach on a side table, dining table, kitchen island, or mantelpiece.
Lovingly and beautifully worn, these wooden ornaments would look fantastic displayed year-round, but over festive periods could be used to set the tone for holiday-themed displays.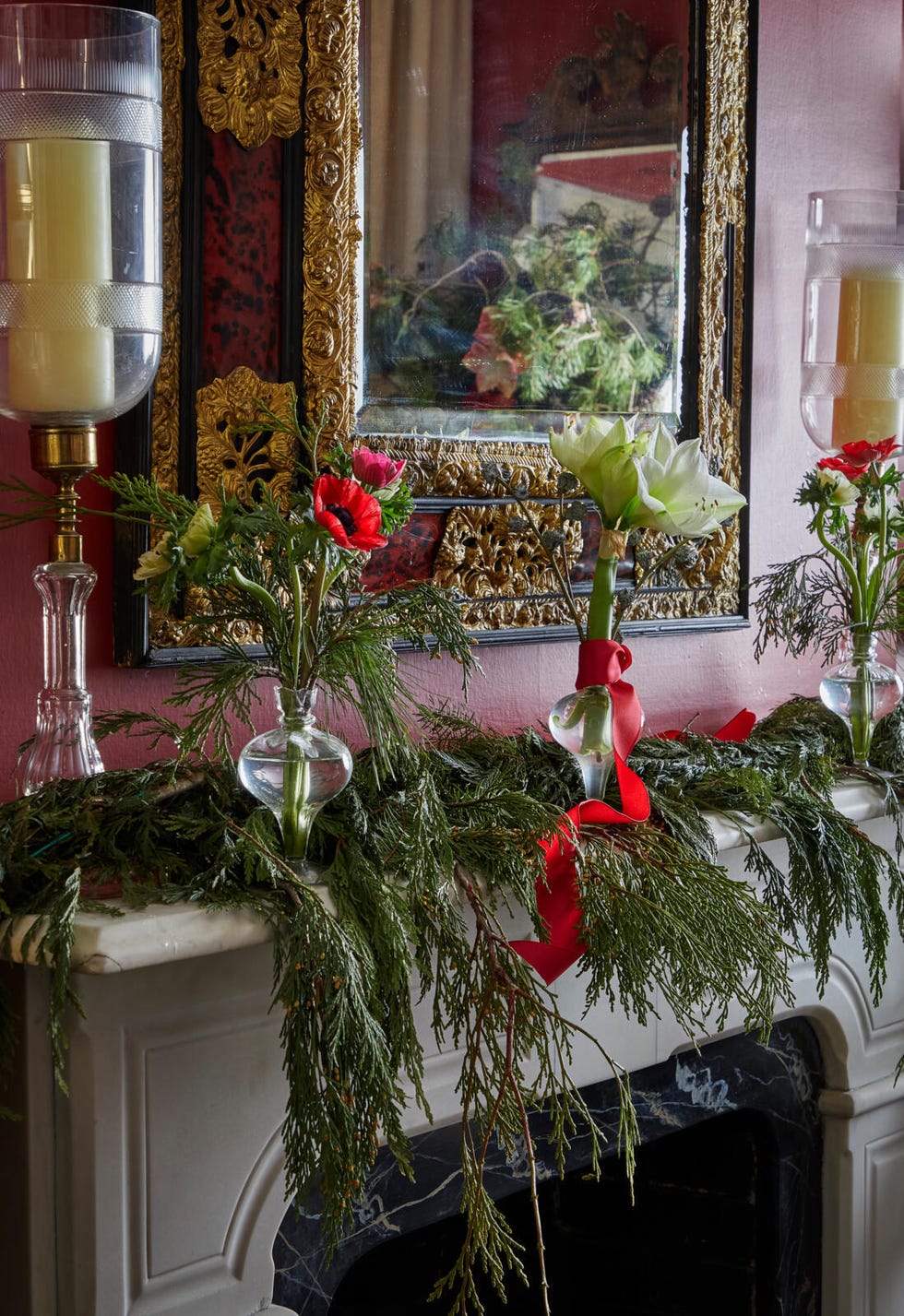 Draped across the mantelpiece pictured above are conifer leaves, ranunculus, and Christmas amaryllis. Recreate this stunning floral arrangement using unique vessels from Chez Pluie. The lives of beautiful bulbs such as paperwhites and amaryllis can be extended by leaving them intact and growing them in a small pot concealed in a jardinière bowl.
At the moment, there is a pair of exquisite blown glass
hurricane lamps
in stock that will brighten up a mantelpiece or tablescape.
Create a Christmas floral display simply by selecting seasonal flowers and foliage that bloom in the traditional Christmas colors. Explore Chez Pluie's range of vases to recreate this look! Above is an example of a rather ornate
clear vase
currently in stock at Chez Pluie.
This unusually-shaped
red-purple vessel
would look fabulous on a side table adorned with a sprig of holly or holiday treats.

2. Christmas glow
Lanterns and candlelight are easy and special interventions that make an interior feel festive. Creating a soothing effect, like this minimalist farmhouse interior, might be the most needed atmosphere this year.
Pictured above is a
multicolored lantern
currently is in stock at Chez Pluie.
Cozy inside! The above pair of illuminated lanterns bring some warmth to this airy and calm interior.
A large
French vintage lantern
(pictured above) currently is available at Chez Pluie. It has a beautiful weathered snow white patina. Breaking the winter chill with its warm glow, it would look delightful lit on a table or positioned near a threshold outside.
Bring winter cheer to the exterior: lanterns, pillows, throws, and lights beckon the beholder into the home photographed above.
This is another unsual
lantern
which is in stock at Chez Pluie at the moment, and could grace an entrance or backyard table.
3. Christmas trees: the more the merrier

Christmas greening of both interiors and exteriors can be achieved using planted Medici urns, planters, baskets, and rustic fruit boxes. Leave bare for full green effect or adorn the sprigs with tinsel and decorations!
Beautiful antique urns are practical alternatives to the traditional Christmas tree stand. Authentic urns, like the ones from Castelnaudary (pictured above) are heavy and sturdy and can adapt to holiday-themed use with ease.
The forest greens and earthy browns in the interior (pictured above) are so calming, festive, fresh, and restorative at the same time.
Above is an elegant decorative urn from Chez Pluie that could be used as the base for a small Christmas tree.
Chez Pluie always has an extensive range of Medici urns (like the pair pictured above) available online.
4. Festive fun with preserving jars
Demijohns resemble Christmas baubles in shape, and are really easy to work with to transform into Christmas décor.

Secure the base of a candle to the top of a demijohn bottle to make an unusual candleholder.

Demijohns can be a creative alternative to a Christmas tree in an apartment or modestly-sized home, and fun decorated with a strand of fairy lights.
Level the inside base of a preserving jar with pebbles and securely position a candle, et voilà, a hurricane lamp! These look fabulous lined up on steps. 
5. A French Christmas tablescape
Spectacular table arrangements can be achieved by selecting table décor in a color you love or one of the festive colors and arranging to chic effect. Antique candlesticks, crystal stemware and interesting vases are some ways to make your Christmas table feel special and comforting.  
The luminous table setting at La Fleur Bleue in Provence (pictured above) mixes vintage and modern elements - characterful chairs are tucked under the table while an alluring variety of clear and colored-glass vessels adorn the tabletop. Evidently choosing glass as the main design theme can make a stylish, enchanting, and, depending on your taste, minimalist tablescape.
Introducing seasonal evergreens, pine cones, and other organic material to a table setting can infuse the air with the familiar scents of the holidays. While the low-key presence of wooden place settings pictured above help to promote a mood of comfort and ease.
Along with hurricane lamps, Chez Pluie stocks beautiful antique and vintage candlesticks that can make fabulous traditional centerpieces for tablescapes. The pair above with five branches each have a lovely organic sculptural form.
The jewel-like quality of vases can be appreciated by featuring a special favorite as the centerpiece of a table-setting, like the beautiful amber-colored repurposed bottle photographed above.
Vases to treasure and that will offer daily pleasure are always available online at Chez Pluie. There is an interesting wax design on this
yellow vase
, which is currently in stock.
Shop this glorious look! Love those wine glasses and the green, gold, and white color palette.
Enchanting plates, incredible
glassware
, and special serving utensils and vessels all can be found online at Chez Pluie.
Red, blue, or plain white plates can help set the tone of different meal times over the holidays. The beautiful vintage set of
red-pink ironstone plates
pictured above would bring some color and interest to a holiday tablescape.
6. Everyday objects and sculpture made festive
Jazz up or rearrange existing domestic décor with some Christmas colors and decorations et voilà! Scroll for some visual cues!
Encountering a pair of breathtaking wall sconces in a hallway, such as the salvaged angel sculptures pictured above, can lift the beholder's spirits. Set up so they form a focal point, celestial sculptures such as these naturally come into their own around the holidays.
Soft, warm, and reassuring textures such as velvet are most appreciated in the cooler weather. Gather comfy furniture around the fireplace and give Santa somewhere to rest his cold, weary feet by placing thoughtfully a red velvet stool near the fire.
Introduce patterns of interest in your décor design - perhaps it's a color theme, star shape, inspiration from upholstery fabric or wallpaper that weaves throughout the interior. Experiment with unique and unusual objects juxtaposed with elements of a different quality -- unite wood with glass, for example. As demonstrated in the inspirational photos throughout the blog, vases, such as this
tall green florist's vase
, or any treasured vessel, can can make a marvelous impact.
 A 1940s red tole chandelier, need I say more?

Quintessential French décor, such as a vintage olive jar with green glaze, lend themselves gracefully to the esprit de noël.
7. A Christmas bedroom
During the holiday season feature objects you love that have some of the festive hues. Their coloring can allude to the special times of the year through careful arrangement. The beautiful interior above is one of the stylish bedrooms in which guests of the Hotel Château du Grand-Lucé can luxuriate. The chateau is located in the famous Loire Valley, a happy jaunt from Paris.
A vintage lamp with gold glass base, such as the one currently in stock at Chez Pluie, placed near an object or material colored green, red, or white can help bring a touch of Christmas to the bedrooms and guestrooms.
Chez Pluie has an assortment of stools of varying heights that are convenient for use as a catchall in a bedroom or guestroom for newspapers, breakfast trays, clothes, or feet. The above stool is 17" high and has a lovely cross-stich pattern fit for resting pieds royaux from the nineteenth century.
Add Christmas touches to bedrooms with decorations and lighting around mirrors, headboards, fireplaces and windows.
While on the theme of multipurpose, crockery such as the 18th-century ironstone platter above is a practical and economical way to fill a wall, as well as fulfill its traditional use on the kitchen or dining table.
Thank you for reading. Salutations des saisons from Chez Pluie.
Image sources: Veranda Magazine, Pinterest, European Best Destinations, Whisper of Vintage, Better Homes & Gardens, Vibeke Design, One Kind Design, Look Me Luck Photos, Follow the Yellow Brick Home, Clem Around the Corner, Amy Chalmers Maison Decor, Dreamy Whites, Cote Maison, Hello-Hello, Tudoorna, Southern Living, Everyday Living, On Sutton Place, Hotel Château du Grand-Lucé, and Chez Pluie.
Prior to crediting images to Pinterest we attempt to find the original source via an extensive online search. If any displayed images are yours please contact us and we will gladly update this article accordingly.
For more inspiration on all things French, follow us on Pinterest and Instagram.
Explore our latest products delivered to your door from Provence.
Frequently asked questions
1) What is the traditional French way of decorating the house for Christmas?
Decorating the mantelpiece with forest greens and placing golden baubles and interspersing with pine cones; dressing a Christmas tree with tinsel, ornaments, and lights; displaying reliquaries or other Christmas-themed sculptures in the house or on the window ledges. Filling lovely rustic vases and antique ceramic urns with fresh evergreen sprigs and positioning on tables and benches throughout the residence. For outside, traditional French homes often will have a Christmas wreath mounted on the front door. Courtyards and gardens often are illuminated with candles and lanterns and lovely evergreens or festively-colored elements will adorn chic garden sculptures. 
2) My yuletide tablescape needs some updating. What are some ideas I can incorporate for Christmas 2021?
This year, either commit to a neutral color palette with pops of one or two colors. Choose for example a natural fibre for the placemats, an evergreen runner, and candlesticks. Consider using a variety of colored and clear glassware on the tabletop. Or if you are feeling like a more busy and lively aesthetic, try a patterned tablecloth, mix and match crockery, and cloth napkins – perhaps with a touch of embroidery. Place Christmas bonbonniere at each table-setting. Fill transparent glass jars with candy canes and other holiday treats.
3) What are some French Christmas traditions?
For centuries the locals of Provence have practised a gastronomic lore which involves eating thirteen desserts on Christmas Eve after attending the Midnight Mass and participating in the les gros souper (the big supper), where a petite roast goose is served. These deserts, which include dried fruit and nuts, fresh fruit, and sweets, have become associated with Jesus Christ and the twelve apostles at the Last Supper. Traditionally the sweets are tasted between December 24 and 26. The specific desserts vary depending on the local and familial region in Provence.
The Les Treize Desserts de Noël are made up of the following:
The Four Beggars, or first four desserts can be any of the following and mostly represent different monastic orders:
Raisins (Dominicans)
Walnuts or hazelnuts (Augustinians)
Dried figs (Franciscans)
Almonds (Carmelites)
Dates, representing the Three Wise Men and the region from which Jesus came
Dried plums from Brignoles
Depending on the setting one or more of the following fresh fruits:

Apples
Grapes
Oranges
Pears
Tangerines
Winter melon
The remaining desserts can be any of the following sweets:

Biscotins (biscuits) from Aix
Calissons d'Aix (a marzipan-like candy made from almond paste and candied melon)
Candied citron
Casse-dents of Allauch (biscuit)
Cumin and fennel seed biscuits
Fried bugnes (or angel wings)
Fruit tourtes (or fruit tarts)
Oreillettes (light thin waffles)
Pain d'epices (or spiced bread)
Pompes à l'huile or fougasse à l'huile d'olive (a sweet cake or brioche made with orange flower water and olive oil)
Pâte de coing (quince cheese/quince paste)
Bûche de Noël (Yule log)
Two kinds of nougat (often from Montelimar, a town famous for its nougat)


Nougat noir au miel (black nougat with honey, a hard candy made with honey and almonds)
Nougat blanc (white nougat, a soft candy made with sugar, eggs, pistachios, honey, and almonds)
4) For the friend who has everything, how can I find a present they will love?!
- For your green-thumbed friends consider a weathered planter or cachepot
- Candlesticks could make a special present for someone who loves meditative spaces and they can be used year-round
- Cheer wine appreciators with a champagne bucket, stemware, or bar accessory
- A classic set of linen tea towels or an old pot for displaying utensils on the counter will enrapture the home chef and help achieve mise en place in the kitchen
- For a colleague or loved one, a decorative piece such as a world globe, map, or small bronze sculpture could update the home or work office for the New Year
Related Posts:
20 Gift ideas for Francophiles
Christmas in France: Île-de-France, Alsace, Aquitaine, Rhone Alps, the Riviera, and Corsica
Seven ways to decorate with demijohn bottles
Leave a comment